GIF Photo Booth Rental In NYC
Are you someone who prefers sharing photos digitally rather than printing them? If so, our gif booth is the perfect solution for you. With the gif booth, you have the ability to create your very own animated gifs and easily share them via text and email, all directly from the booth itself. However, if you still desire physical prints, we've got you covered as well! Our gif booth offers the option to obtain prints of your photos, ensuring you can have the best of both worlds.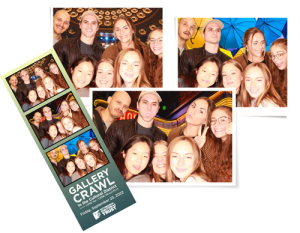 Indulge in the Irresistible Fun of a DigiBooths Gif Booth – A Crowd Favorite!
Among the array of experiences we offer, our Gif Booths stand out as one of the most sought-after choices. Your guests will have a blast as they step inside the booth and capture three photos, which our booths seamlessly combine to create a lively and entertaining gif. While eagerly waiting for their 4×6 print, guests can witness the magic unfold before their eyes.
To ensure a personalized touch, we utilize two custom overlays—one for the printed 3-shot series and another for the captivating gif we generate. This attention to detail enhances the overall experience, leaving your guests delighted and impressed.
Sharing the joy is effortless. Guests can easily share their unique gifs via email or text, utilizing a separate sharing station. This ensures a seamless flow and prevents any delays for the next group of guests, as the photo booth remains available for continuous enjoyment.
As an added bonus, our gif booth offers the opportunity to collect valuable data for your future marketing campaigns. We can gather phone numbers and emails, empowering you to connect with your guests long after the event has ended.
Prepare for endless laughter, memorable moments, and valuable connections with our exceptional gif booth experience. Contact us today to elevate your event and provide your guests with an unforgettable interactive experience.
Our Requirements for Setup
8'x8' space with at least 7.5' height
One 110V/15 amp plug
Access to the venue 1 hour prior to the start of your event
$250 deposit for all non-corporate clients. Corporate clients and schools are billed net 30.